Introducing our core concept for 2020: "No more Hiroshima! No more Nagasaki!"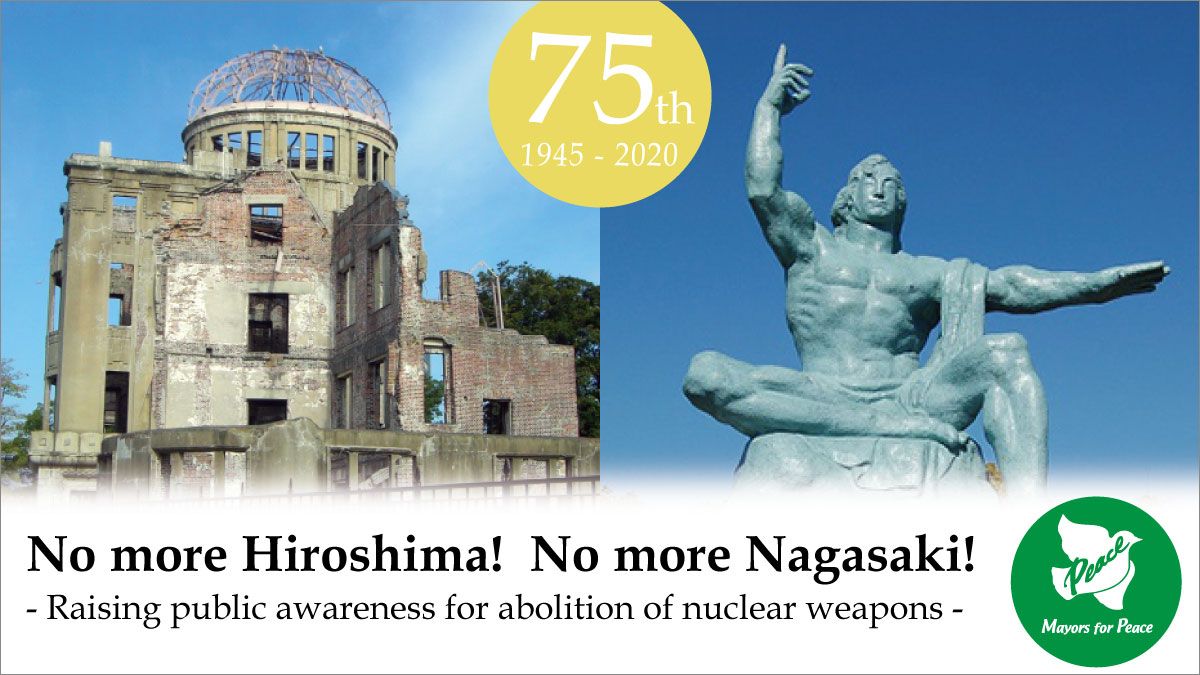 2020 marks 75 years since the atomic bombings. It also is the last year to achieve the Mayors for Peace 2020 Vision, which was developed in the hope of realizing nuclear weapons abolition while the hibakusha are still alive. However, in light of the COVID-19 pandemic we will not be able to host many guests in Hiroshima and Nagasaki this summer.
At a time when we must unite globally more than ever in the fight against the pandemic, unilateralism is gaining momentum in the international community. It is now all the more important for all nations to take action to tackle common threats such as infectious disease or nuclear weapons from a humanitarian perspective, and for civil society to support political leaders in the pursuit of such goals.
Given the above, to commemorate this milestone year Mayors for Peace has planned the below projects, with a core concept of "No more Hiroshima! No more Nagasaki!" Our aim is for people around the world, many of whom are currently unable to visit the atomic bombed cities, to share in the earnest desire of the hibakusha: "no one else should suffer as we have."
1. Message Video
We have collected video messages from survivors of the atomic bombings, representatives from national governments, NGOs, and Mayors for Peace Executive Cities. These were compiled into one video, and released on YouTube on July 20. The video asks viewers to share and voice their support, thus raising and spreading public awareness throughout the world toward abolition of nuclear weapons.
Watch the Video
2. Educational webinar on peace
Mayors for Peace hosted an educational webinar on peace on Tuesday August 4. The participants were selected young people both from Hiroshima and Nagasaki who are involved in local peace activities, and those from other member cities around the world. After learning about international circumstances concerning nuclear weapons, each participant gave a presentation on their peace activities, then exchanged ideas and opinions with each other. The video from the webinar is available in the page below. This webinar aims to encourage young people to be proactively engaged in peace activities.
Click here for details and video
3. Core concept: "No more Hiroshima! No more Nagasaki!"
We are introducing our core concept for 2020: "No more Hiroshima! No more Nagasaki!" This has been formulated to raise public awareness for abolition of nuclear weapons, calling on all citizens of the world to join us in taking action. When your municipality holds a commemorative or peace-related event, please make use of the core concept "No more Hiroshima! No more Nagasaki!", such as in the title of the event or as the event's theme.
Please also upload the banner below on your municipality's website, and post it on your official social media accounts.
Download Banner
(Please do not alter the image)