Report by the City of Granollers, Catalonia, Spain
January 20, 2015
On Friday, January 16th, the exhibition was opened by Mayor Xavier Trias of Barcelona and Mayor Josep Mayoral of Granollers, together with Ambassador Kazuhiko Koshikawa of Japan in Spain and Mr. Kenji Shiga, Director of the Hiroshima Peace Memorial Museum.
El Born Centre Cultural is showing the exhibition, which is produced by the Hiroshima Peace Memorial Museum, the Nagasaki Atomic Bomb Museum and the City of Granollers, a Vice-President city of Mayors for Peace.
The main purpose of the exhibition is to explain what happened in August 1945 when the bombs were dropped over the cities and to show the consequences of the A-bomb on people, buildings and the environment. The exhibition also emphasizes how the two cities have been recovered from the damage caused by the atomic bombs and how the memory of those who died and those who still suffer the consequences still remains alive. The exhibition also conveys a desire to raise awareness about the danger of nuclear weapons, as well as the acknowledgement of a great need to eliminate this threat.
The exhibition displays photographs, drawings from Hibakusha, texts and videos, to show how, 70 years after the explosion of the two atomic bombs that killed 210,000 people, the world has not yet been freed from the nuclear threat. Nine countries currently have 16,000 nuclear weapons, 2,000 of which remain ready for immediate utilization. As long as these weapons exist, the world will always face the threat of a nuclear catastrophe, so the only way to avoid this is to ban and to eliminate all the nuclear weapons. This is the goal shared by the more than 6,000 cities from around the world belonging to Mayors for Peace, 200 of which are Catalan municipalities, Granollers and Barcelona among them.
From February 11th to March 8th, the exhibition will be in the Museum of Granollers, in addition to a selection of artifacts recovered from the explosions. These artifacts include objects from daily life such as watches, clothes, a lunchbox, dishes and religious objects.
Ms. Yoshiko Kajimoto, an A-bomb survivor from Hiroshima, will visit Barcelona and Granollers at the beginning of February to deliver her testimony in schools and at public activities organized on the occasion of the exhibition.
>Flyer of the exhibition in Barcelona
>Related News the City of Barcelona website (in Catalan)
>Related News: the City of Granollers website (in Catalan)
>The "Hiroshima-Nagasaki. 70 Years from the Atomic Bombing" exhibition in Barcelona and Granollers
>Related page: Yoshiko Kajimoto, A-bomb survivor, visited Barcelona and Granollers in the framework of the exhibition "Hiroshima-Nagasaki. 70 years from the atomic bomb"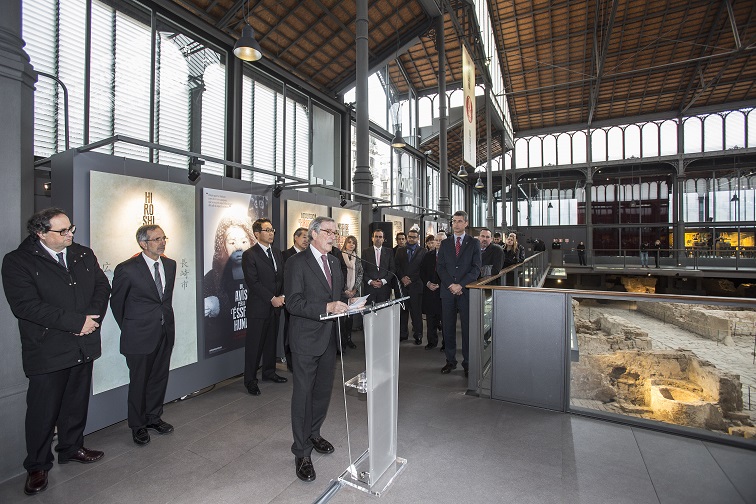 Mayor Xavier Trias of Barcelona delivering his speech
(Photo credit: Ajuntament de Barcelona)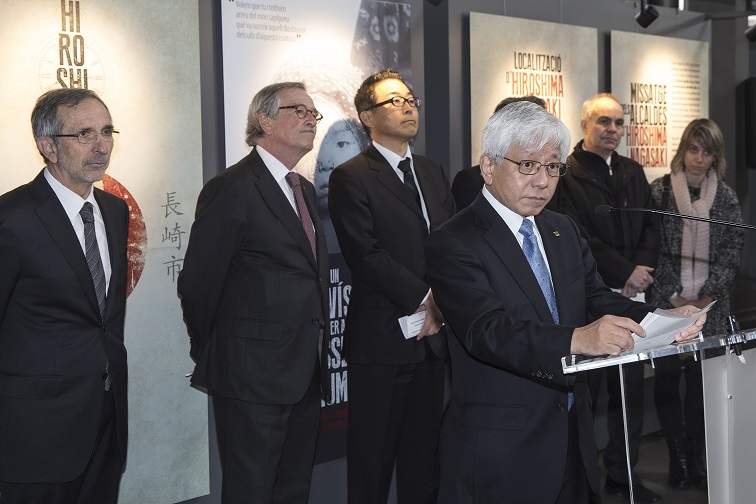 Mr. Kenji Shiga delivering his speech in the opening ceremony
(Photo credit: Ajuntament de Barcelona)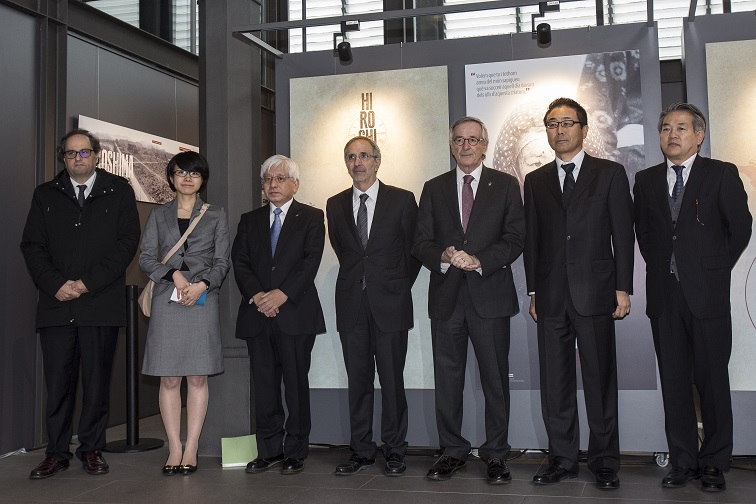 From left to right:
Mr. Quim Torra, Director of El Born Centre Cultural
Ms. Yukimi Dohi, Curator of the Hiroshima Peace Memorial Museum
Mr. Kenji Shiga, Director of the Hiroshima Peace Memorial Museum
Mayor Josep Mayoral of Granollers and Vice-President of Mayors for Peace
Mayor Xavier Trias of Barcelona
Ambassador Kazuhiko Koshikawa of Japan in Spain
Consul Hiroyuki Makiuchi of Japan in Barcelona
(Photo credit: Ajuntament de Barcelona)