Report by Jackie Cabasso, Mayors for Peace North American Coordinator
On January 28, 2020, the New York City (NYC) Council Committee on Government Operations, jointly with the Committee on Civil Service and Labor, held a historic public hearing on two bills that would declare and advance NYC's support for nuclear disarmament and the Treaty on the Prohibition of Nuclear Weapons (TPNW).
Res. No. 976 calls on the New York City Comptroller to divest the pension funds of public employees in NYC from companies involved in the production and maintenance of nuclear weapons, reaffirms NYC as a Nuclear Weapons Free Zone and joins the International Campaign to Abolish Nuclear Weapons (ICAN) Cities Appeal, which welcomes the adoption of and calls on the United States to support and join the TPNW.
Int. No. 1621 would establish an advisory committee, under the auspices of the Commissioner of the Mayor's Office on International Affairs (MOIA), to examine strengthening NYC's status dating back to 1983 as a nuclear weapons-free zone, issue reports, conduct programs, host public meetings and other educational initiatives, and make recommendations for policy and legislation, over a five-year period.
The hearing was preceded by a spirited press conference on the steps of City Hall, featuring Councilmember Daniel Dromm, lead sponsor of both bills, and other speakers. Against the backdrop of dozens of activists holding signs and colorful banners, Robert Croonquist, a retired high school teacher and key organizer of the day's events declared, "I do not want my pension that I earned teaching young people to survive and live in this world to be spent on their destruction."
The hearing was impassioned and inspiring, lasting 4-1/2 hours. In all 63 people testified, from a wide range of perspectives, all supportive of the measures. Speakers included indigenous people, student interns reading testimonies of hibakusha, Japanese Americans, physicians, bankers, lawyers, scientists, artists and activists. Several speakers noted NYC's seminal role in its namesake, the Manhattan Project, drawing on a research program located at Columbia University and with the participation of private companies at 30 sites throughout the City.
At the outset, Councilmember Dromm asked, "Why is New York City invested in its own destruction and what are we going to do about it?." He noted that the City has already divested from private prisons and fossil fuels.
The hearing opened with a disappointing presentation by Penny Abeywardena, Commissioner of MOIA, who while purporting to express support for the advisory committee, claimed that it did not fit within the scope of her office, which deals with the United Nations and foreign governments. "The presence of nuclear weapons in New York City is not an international issue," she stated, explaining that her office does not have the required expertise. Following tough questioning by several incredulous members of the Council, another City staffer conceded, "This is not controversial, we just have to find the right home."
Speakers were asked to limit their oral remarks to two minutes but were encouraged to submit longer written comments. Speaking on behalf of Mayors for Peace, North American Coordinator Jacqueline Cabasso expressed support for both bills and quoted relevant passages from several Mayors for Peace-sponsored resolutions adopted by the United States Conference of Mayors in recent years. She noted that Initiative 1621 would establish an advisory committee to examine nuclear disarmament and a nuclear weapons-free zone, and that the commissioner of MOIA would serve as chair, while three members of the advisory committee would be appointed by the mayor. "This makes it all the more natural for Mayor De Blasio to join Mayors for Peace," she added. "He has been personally invited by the mayors of both Hiroshima and Nagasaki, and I would publicly like to invite him again to join. Hiroshima is prepared to welcome New York City to Mayors for Peace by offering to plant an A-bombed sapling at a mutually agreed location in New York." Councilmember Dromm indicated that he would follow up with the Mayor.
At the end of the long day Dromm declared that there is a veto-proof majority for both bills. Referring to Int. 1621, Councilmember Fernando Cabrera, Chair of the Committee on Governmental Operations, declared: "We're going to get this bill to the finish line. It's going to happen. It's going to get into the right agency."
Votes have not yet been scheduled, but NYC activists are hoping to see both bills passed before the start of the Nuclear Nonproliferation Treaty Review Conference on April 27.
>Written testimony to the New York City Council, submitted by Jacqueline Cabasso, North American Coordinator, Mayors for Peace

>Res. No. 976 Resolution calling on the New York City Comptroller to instruct the pension funds of public employees in New York City to divest from and avoid any financial exposure to companies involved in the production and maintenance of nuclear weapons, reaffirming New York City as a Nuclear Weapons Free Zone, and joining the ICAN Cities Appeal and calling on the United States to support and join the Treaty on the Prohibition of Nuclear Weapons
>Int. 1621 A Local Law in relation to creating a nuclear disarmament and nuclear weapons-free zone advisory committee
>Video of the hearing – Part 1 (Ms. Cabasso's testimony starts at 1:38:07)
>Video of the hearing – Part 2
>From Manhattan Project to Nuclear Free; New York City's Policy and Practice on Nuclear Weapons,International Disarmament Institute Background Paper, Pace University, Dec. 2019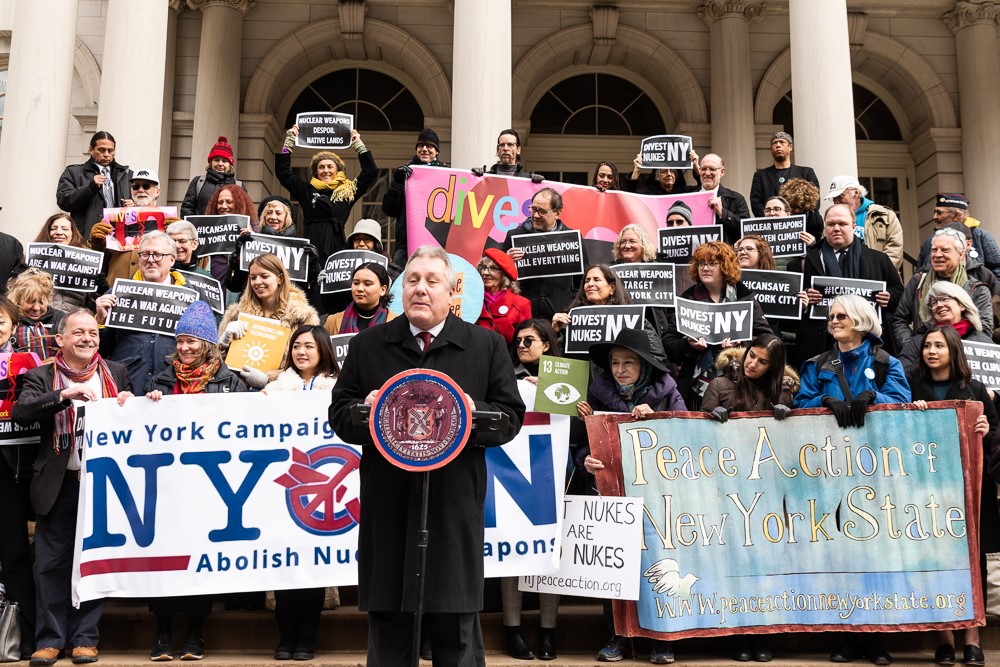 NYC Councilmember Daniel Dromm at press conference on steps of City Hall before hearing
(Photo credit: Gabriele Holtermann-Gorden)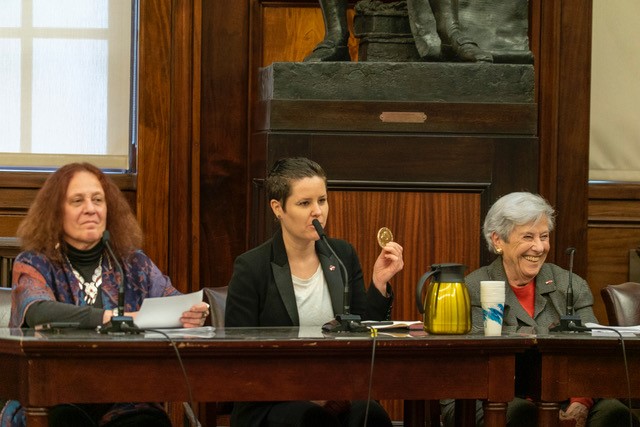 L – R: Jacqueline Cabasso, Mayors for Peace North American Coordinator; Ray Acheson, Women's International League for Peace and Freedom (holding ICAN Nobel Peace Prize medal); Alice Slater, World Beyond War
(Photo credit: Ari Beser)