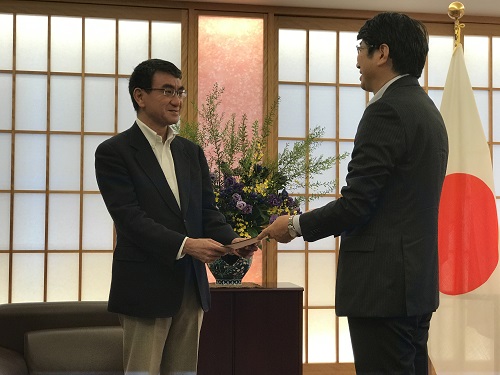 (From left) Foreign Minister Kono and Mayor Taue of Nagasaki City
August 23, 2017, Tokyo, Japan
The 7th Japanese Member Cities Meeting was held in Nagasaki City where it was decided to submit a Letter of Request calling for the promotion of actions to abolish nuclear weapons to the Japanese Government.
On August 23, Mayor Taue of Nagasaki City, the Vice President of Mayors for Peace and Mr. Sugiura, Director of the Tokyo Liaison Office of Hiroshima City representing the Mayor of Hiroshima City, met with Foreign Minister Kono and submitted the agreed-upon Letter of Request to Prime Minister Abe on behalf of Japanese member cities of Mayors for Peace. Mayor Taue also expressed to Minister Kono his gratitude for attending the Peace Memorial Ceremony and the 9th General Conference of Mayors for Peace and handed out the "Nagasaki Appeal" and "Special Resolution Requesting the Early Bringing into Effect of the Treaty" adopted at the 9th General Conference.
Mayor Taue explained the commitment of Mayors for Peace to the early ratification of the Treaty on the Prohibition of Nuclear Weapons that had been adopted at the UN in July and requested that the Japanese government make an effort to abolish nuclear weapons in accordance with the Treaty. In response, Minister Kono reported that the Japanese government had requested the United States to ratify the CTBT (Comprehensive Nuclear Test Ban Treaty). He said that although it is difficult for various reasons, such as opposition in the US Congress, the Japanese government is actively working on these issues with nuclear-armed states in various ways, including promoting the FMCT (Fissile Material Cut-off Treaty).