1. Outline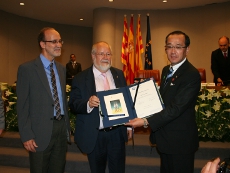 2011 XXXII Prize for Peace
On October 24, 2011, Mayors for Peace was awarded the XXXII Prize for Peace from the United Nations Association of Spain (ANUE). ANUE recognized the work of Mayors for Peace, which now consists of more than 5,000 member cities in 151 countries/regions around the world, for peace, disarmament and especially the elimination of nuclear weapons.
On November 9, Mayor Matsui, Mayor of Granollers, participants of the Executive Conference and mayors of neighboring member cities attended the Awards Ceremony of the"XXXII Prize for Peace"at Diputacio de Barcelona (Barcelona Prefectural Hall) and received the award certificate and the list of extra prize money totaling 18,000 Euro (About 1,900,000 yen).
2. About the XXXII Prize for Peace (Spanish: XXXII Premio por la Paz)
(1)Given from:
United Nations Association of Spain / la Associación par alas Naciones Unidas España (ANUE)
(2)Outline of the Prize:
Prize for Peace was established in 1979 to commemorate the anniversary of the founding of the United Nations on October 24. The prize has been conferred every year since 1980.
The award includes a prize of 18,000 €.
(3)Past Major Awardees:
1986 Mr. Nelson Mandela, the 8th President of South Africa
1989 Mr. Mikhail Gorbachev, the first President of the USSR
1992 Médecins Sans Frontières (MSF)
※The United Nations Association of Spain (ANUE) is an NGO in consultative status with ECOSOC. It was established in 1962 and its headquarters are located in Barcelona.
[ANUE's Fundamental Goals]
・Divulging the principles and aims of the United Nations;
・Spreading and supporting the task developed by the United Nations and its specialized agencies, promoting the collaboration of the institutions and the civil society with; and
・Proclaiming, spreading and defending Human Rights and fundamental freedoms.
※The number of Mayors for Peace member cities in Spain is 301 (As of October 1) including Madrid, Barcelona and Granollers. Granollers is a vice president of Mayors for Peace.
>Related news on the United Nations Association of Spain website (Spanish only) 
>English translation of the Press Release