The 1.02 million signature(*1) petition forms collected for the Mayors for Peace "Cities Are Not Targets! (CANT)"(*2) initiative are now on permanent display at the UN Headquarters in New York. The petition forms were submitted to the UN in May 2010, on the occasion of the NPT Review Conference, by the Mayors for Peace delegation led by President Tadatoshi Akiba, Mayor of Hiroshima and Vice-President Tomihisa Taue, Mayor of Nagasaki.
The exhibit, consisting of two three-meter-high towers of petition forms, was inaugurated by UN Secretary-General Ban Ki-moon, High Representative for Disarmament Affairs, Sergio Duarte, and US Messenger of Peace, actor Michael Douglas, at a formal ceremony on March 24. The CANT monument is the first-ever permanent civil society exhibit (i.e. not donated by a government) to be installed at UN Headquarters. Three hibakusha from Japan, including a Korean hibakusha, attended the ceremony.
Mayors for Peace expects that a lot of diplomats and UN visitors from around the world will see this permanent exhibition at the UN Headquarters, feel the magnitude of this global grassroots wish for a peaceful world without nuclear weapons, and enhance momentum for the abolition of nuclear weapons.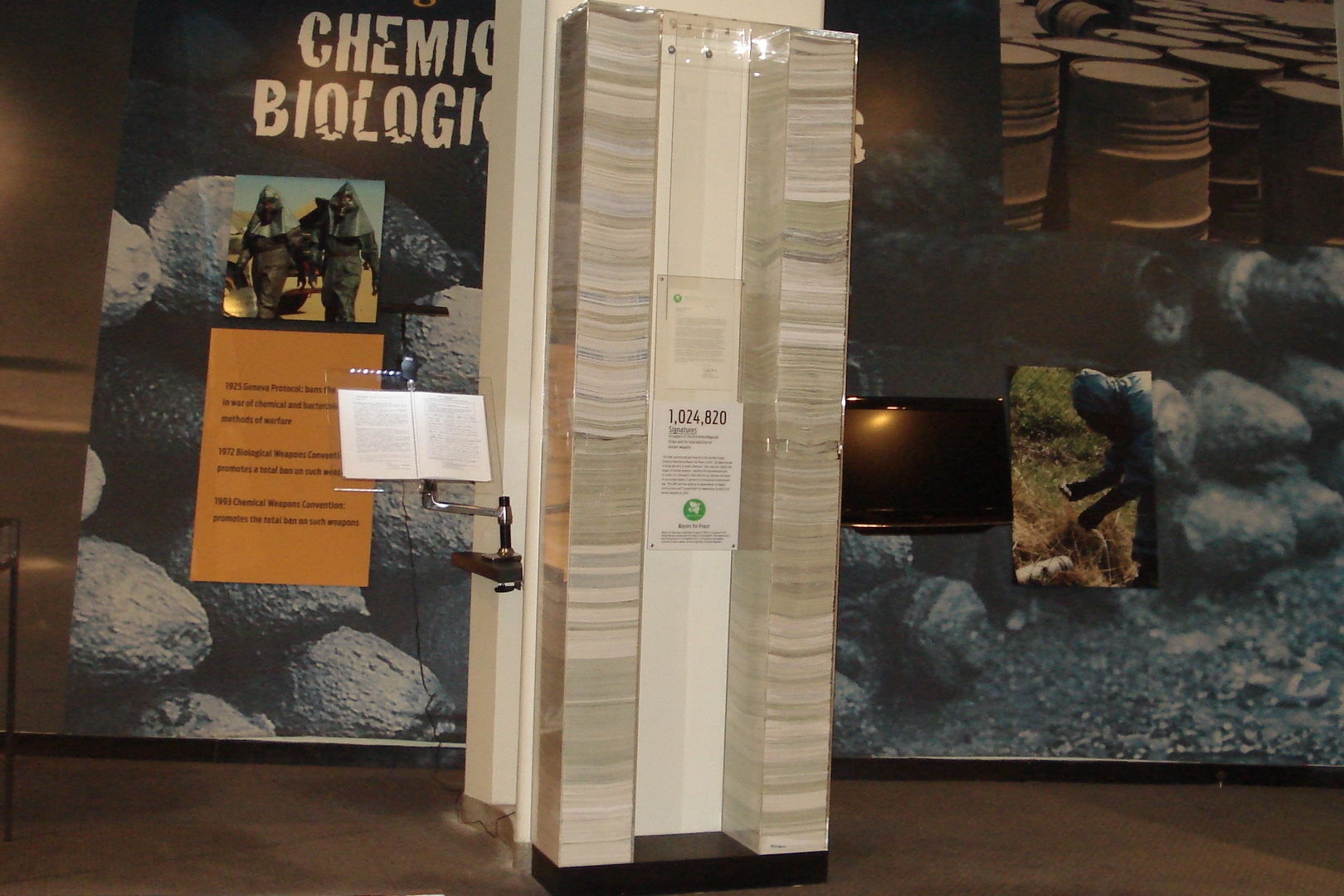 Two three-meter-high towers of the petition forms covered by glass (Photo Credit: UNODA)
[Related information]
*1 Thanks to your invaluable support, the total number of CANT signatures since February 2007 has reached 1.11 million as of the end of March 2011.
*2 Based on the Hiroshima Appeal announced in July 2010 at the Hiroshima Conference for the Total Abolition of Nuclear Weapons by 2020, Mayors for Peace launched a new version of the CANT petition drive, focusing on a nuclear weapons convention and setting a clear time framework for abolition of nuclear weapons by 2020. We appreciate your continued support.