Mayor Akiba visited Volgograd in order to attend the Volgograd City Day event, which celebrates the anniversary of its foundation, to boost exchange and to ask neighboring cities to join Mayors for Peace and realize a world without nuclear weapons.
Volgograd in one of Hiroshima's Sister Cities and Vice President Cities of Mayors for Peace. He also visited Moscow, Russia's capital, and met with the Mayor of Moscow, former-President Gorbachev and Federal Assembly members to ask for their cooperation in working together to abolish nuclear weapons by 2020.
Saturday, September 4
Sunday, September 5
Mayor Akiba met with Mayor Roman Grebennikov of Volgograd at City Hall, expressed his gratitude for Volgograd's cooperation, contribution and presentation of the Honorary Medal of Volgograd, and asked the Mayor to encourage local authorities and related organizations to join Mayors for Peace to increase member cities in Russia. Mayor Grebennikov expressed his gratitude for the efforts of Mayor Akiba to establish a closer relationship between both cities and promised to try to do his best to increase member cities through five local organizations, which Volgograd belongs to.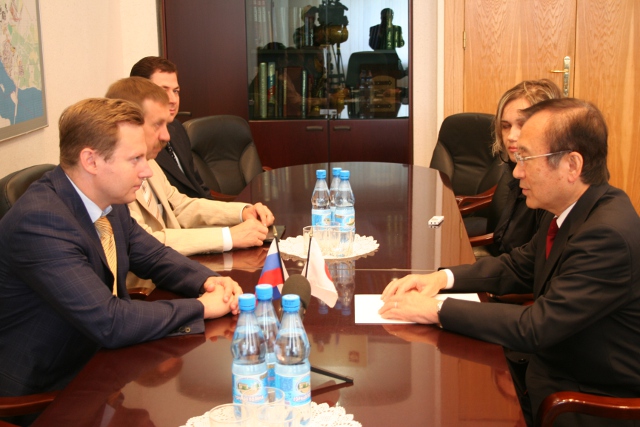 After the meeting with the mayor, Ms. Irina Kareva, Chairperson of the City Council, took him on a tour of the council chambers and they exchanged opinions about their cities and policies. She proposed an opportunity for their councilors to have an exchange session.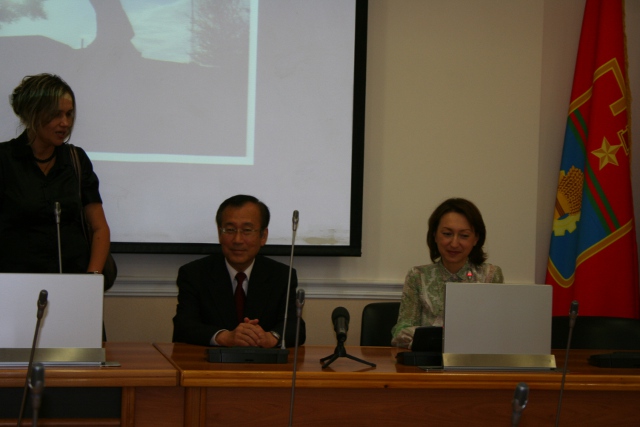 Monday, September 6
He visited Volzhsky, the second city in Volgograd Oblast adjacent to Volgograd and met with Mayor Marina Robertovna Afanasyeva. Mayor Akiba thanked her for joining Mayors for Peace in April this year and asked for her cooperation in abolishing nuclear weapons by 2020. Mayor Afanasyeva introduced Volzhsky's efforts for peace by establishing the city's peace committee, expressed her determination in participating in international movements through Mayors for Peace and promised further cooperation in the future as a war-experienced city.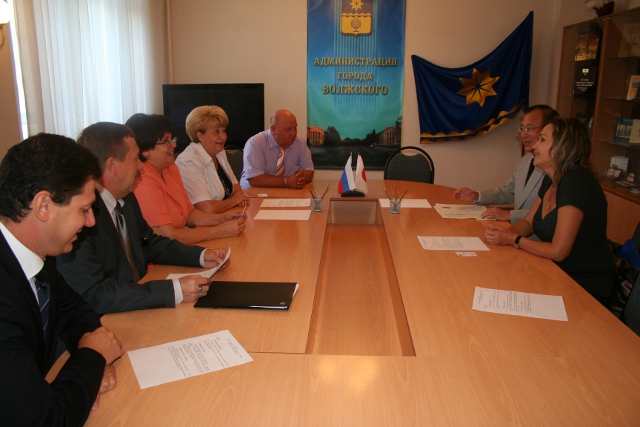 Tuesday, September 7
Mayor Akiba met with Mr. Viacheslav S. Timchenko, Chairperson of the Committee on Local Government, Federal Assembly of Russian State Duma. Mayor Akiba hoped that like in Nicaragua, where all the cities joined Mayors for Peace, all of the cities in Russia would also similarly follow Nicaragua's example. Mr. Timchenko said the 2020 Vision Campaign and disarmament in Russia had commonalities in various aspects and promised cooperation such as sending letters in his name to municipalities in Russia to request them to join Mayors for Peace and promoting the same request at a forum in which many municipalities participate.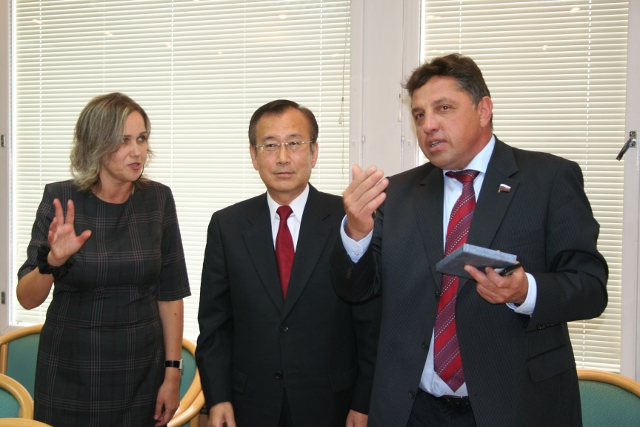 After that, Mayor Akiba visited Mayor Yury Luzhkov at Moscow City Hall. Mayor Luzhkov said firstly, the devastation in Hiroshima brought a global appeal that nuclear weapons should never be used. When Mayor Akiba requested cooperation in recruiting Russian cities to Mayors for Peace, Mayor Luzhkov promised to call on cities to join Mayors for Peace at the International Mayors Federation or the Russian Committee for the 21st Century, a social organization for the development of Japan-Russia relations, to which many municipalities belong and of over which he presides. Mayor Luzhkov also welcomed Mayor Akiba's suggestion of Russian cities cooperating with the Unites States Conference of Mayors and his offer to take an intermediary role for that. Furthermore, when Mayor Akiba introduced the fact that we were reviewing the feasibility of having the 2020 Olympics in Hiroshima, he expressed his support. In addition, we exchanged opinions about the possibility of cooperation in business.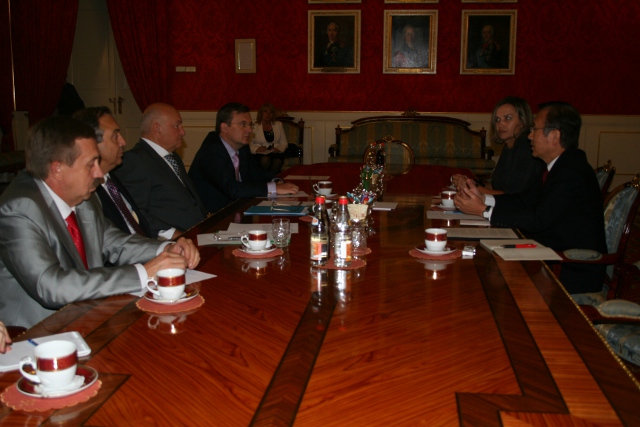 Wednesday, September 8
Mayor Akiba met with Mr. Mikhail Gorbachev, former president of USSR, at the Gorbachev Foundation located in Moscow City. Mayor Akiba asked Mr. Gorbachev to visit Hiroshima for the first time in 10 years to attend the World Summit of Nobel Peace Laureates, which will be hosted by the City of Hiroshima in November. Mr. Gorbachev readily accepted the request and stated that he would like to express appreciation to the A-bomb survivors in some form for their contributions to peace.
After the meeting, Mayor Akiba went on a tour of foundation's museum, where photos and personal belongings of Mr. Gorbachev from his birth to present time are exhibited, and then discussed about the World Summit in Hiroshima with officials of the Permanent Secretariat of Nobel Peace Laureates Summits.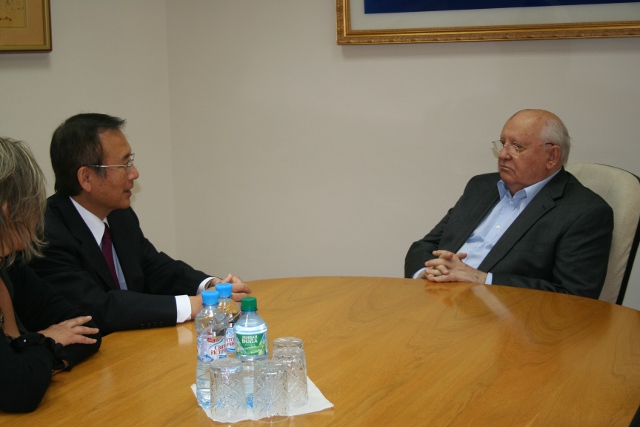 Thursday, September 9
Mayor Akiba met with Dr. Yevgeny Chazov, General Director at the Russian Cardiology Research Complex located in the suburbs of Moscow. Dr. Chazov is a famous cardiologist, and established the IPPNW (International Physicians for the Prevention of Nuclear War) together with Dr. Bernard Lown, Professor at Harvard University, in 1980 and served as a co-president and founder (IPPNW received a Nobel Peace Prize in 1985). Dr. Chazov, who is widely known as a peace activist, directly suggested to then President Gorbachev that stoppage of nuclear tests be extended. Mayor Akiba expressed gratitude to Dr. Chazov for his past activities and explained to him that mayors all over the world organize Mayors for Peace, following the model of IPPNW, which has gathered doctors to work for peace. Mayor Akiba also asked Dr. Chazov to attend the World Summit of Nobel Peace Laureates in November if possible. Dr. Chazov warned that peace activities have slowed down after the collapse of the USSR and stated that he was aware of danger in Asian region such as India, Pakistan and Israel. He also mentioned that he would be interested in attending the summit in Hiroshima.