President Akiba participated in the 3rd meeting of the International Commission on Nuclear Non-proliferation and Disarmament (ICNND) in Moscow, Russia, led by the Japanese and Australian governments. In addition to promoting the Hiroshima-Nagasaki Protocol as well as the 2020 Vision Campaign [Emergency Campaign to Ban Nuclear Weapons], we actively promoted understanding and cooperation with our mission. Furthermore, bonds were forged between committee members that will assist in the implementation of the 4th ICNND meeting to be held in Hiroshima this October.
Sunday, June 21
Mayor Akiba had an opportunity to speak to an audience of 29 people at the NGO session, including Co-chairman of the Commission Mr. Gareth Evans and Ms. Yoriko Kawaguchi, both former Ministers of Foreign Affairs in their respective nations, and commissioners and advisors who are the specialists in the field of nuclear issues.
In his speech, Mayor Akiba praised President Obama for his words in Prague. While asking for the support of the "Obamajority", who favor the abolition of nuclear weapons, he proclaimed the elimination of nuclear weapons by 2020 could technically be possible. The Hiroshima-Nagasaki Protocol would be the roadmap for this endeavor, and he called for cooperation and support to that end.
He also spoke about the film "On the Beach," a motion picture set in Australia against the backdrop of humaniy's extinction at the hands of nuclear weapons. In addition, he showed a short film about paper cranes, introducing the story of Sadako Sasaki, who prayed for recovery from the aftereffects of atomic warfare and folded more than one thousand cranes. He then spoke about the exhibition consisting of paper cranes offered from around the world. At the end of the speech, he said that we must work together to protect our children's future, holding the rapt attention of all the committee members present.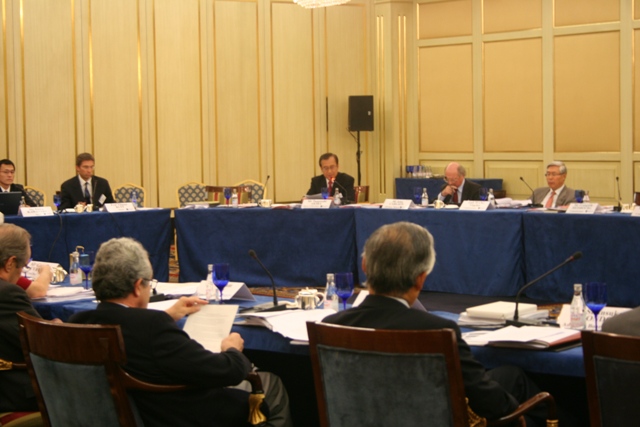 Furthermore, in receptions and between meetings, we strengthened our bond with ICNND through an opinion exchange with diplomats from Japan and Australia and and Committee members.
The Committee members were clear in their opinion regarding the importance of the earliest possible abolition of nuclear weapons as well as their anticipation of the upcoming 4th meeting in Hiroshima this October.