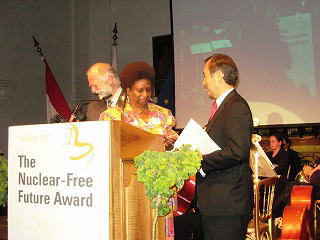 Mayors for Peace and its president, Hiroshima Mayor Tadatoshi Akiba, were presented with the 2007 Nuclear-Free Future Award (NFFA) by the Franz-Moll Foundation, recognizing their global peace activities, including the 2020 Vision Campaign and their drive to galvanize public opinion toward the abolition of nuclear weapons and lasting world peace.
The awards ceremony was held in the City of Salzburg in Austria and co-hosted by the Salzburg Provincial Government, on October 18, 2007. Mr. Claus Biegert, Director of NFFA, presented Mayor Akiba with the certificate.
In his award speech, Mayor Akiba expressed gratitude and honor to the Franz-Moll Foundation, which has promoted the abolition of nuclear weapons globally, for the recognition of the activities of Mayors for Peace, and also expressed his resolve to work together with member cities for nuclear disarmament.
Mayor Akiba mentioned an example of global environmental protection activities by the 2007 Nobel Peace laureate, Mr. Al Gore and the Intergovernmental Panel on Climate Change (IPCC), saying that even in such a case of global warming, where there is no dispute among scientists about its veracity, some stakeholders including governments, interested groups of energy industry and business, had tried to hide, obscure or bend the facts to prevent them from reaching people.
He thanked the Foundation for recognizing his efforts to abolish nuclear weapons in the face of a situation more dire than global warming, and assured them that this award would be an important step in improving our current situation.
He went on to say that faced with aging hibakusha and nuclear weapons states, that we must clearly show the will of the majority of world citizens for the abolition of nuclear weapons and that that will must be reflected in international governments' decision-making.
Furthermore, he asked cities around the world to join Mayors for Peace to promote the 2020 Vision Campaign and stressed the importance of cooperation with those involved with the Nuclear-Free Future Award in order to realize a world without nuclear weapons.
Other awardees include Professor Horst Siegwart Gunther, University of Leipzig, Germany, and Ms.Charmaine White Face and the NGO "Defenders of the Black Hills", USA. Ms. Freda Meissner-Blau, Austria and Professor Armin Weiss, Germany also received the award in recognition of their long-standing engagements in peace activities including that of the abolition of nuclear weapons.
[Franz-Moll Foundation]
Based on the Declaration of Salzburg adopted by the World Uranium Hearing held in Salzburg, Austria in 1992, the Franz-Moll Foundation for the Coming Generations, a Munich-based Non-Profitable Organization established in 1997, gives the Nuclear-Free Future Award every year to individuals and initiatives to tackle with abolition of nuclear weapons and nuclear energy.
[Nuclear-Free Future Award]
The Nuclear-Free Future Award was established in 1998 to honor individuals and groups working towards the realization of a world rid of nuclear weapons and nuclear energy, and making notable contributions in the categories of 1) Solutions, 2) Education, and 3) Resistance, as well as an honorary Lifetime Achievement award to those who have worked in this field for a long time. Mayors for Peace received the award for Solutions.