Report by Mr. Sean Morris, UK & Ireland Mayors for Peace Chapter Secretary
Over the past few years, a growing number of UK members of Mayors for Peace have requested and received gingko seeds from Hiroshima. These seeds originate from a mother tree damaged in the Hiroshima atomic bomb that survived and regrew. The seeds are powerful symbols of peace and the power of nature to regenerate after disaster.
There are now 12 UK Councils with gingko seeds from Hiroshima. One of those is the Shetland Islands Council, the most northerly part of the UK. Shetland Amenity Trust staff have carefully nurtured the gingko seeds, which were initially grown in a greenhouse before being brought on outdoors. Some seedlings have already been planted out in other locations in Shetland, including at some local schools, with other sites still being considered. It is hoped that the story of the trees will be an educational resource to stimulate discussions about conflict and peace.
On August 6th, a gingko tree sapling was planted beside Shetland Library, in the grounds of the former St Ringan's church, ahead of the planned move of the Council Chamber from the Town Hall next year.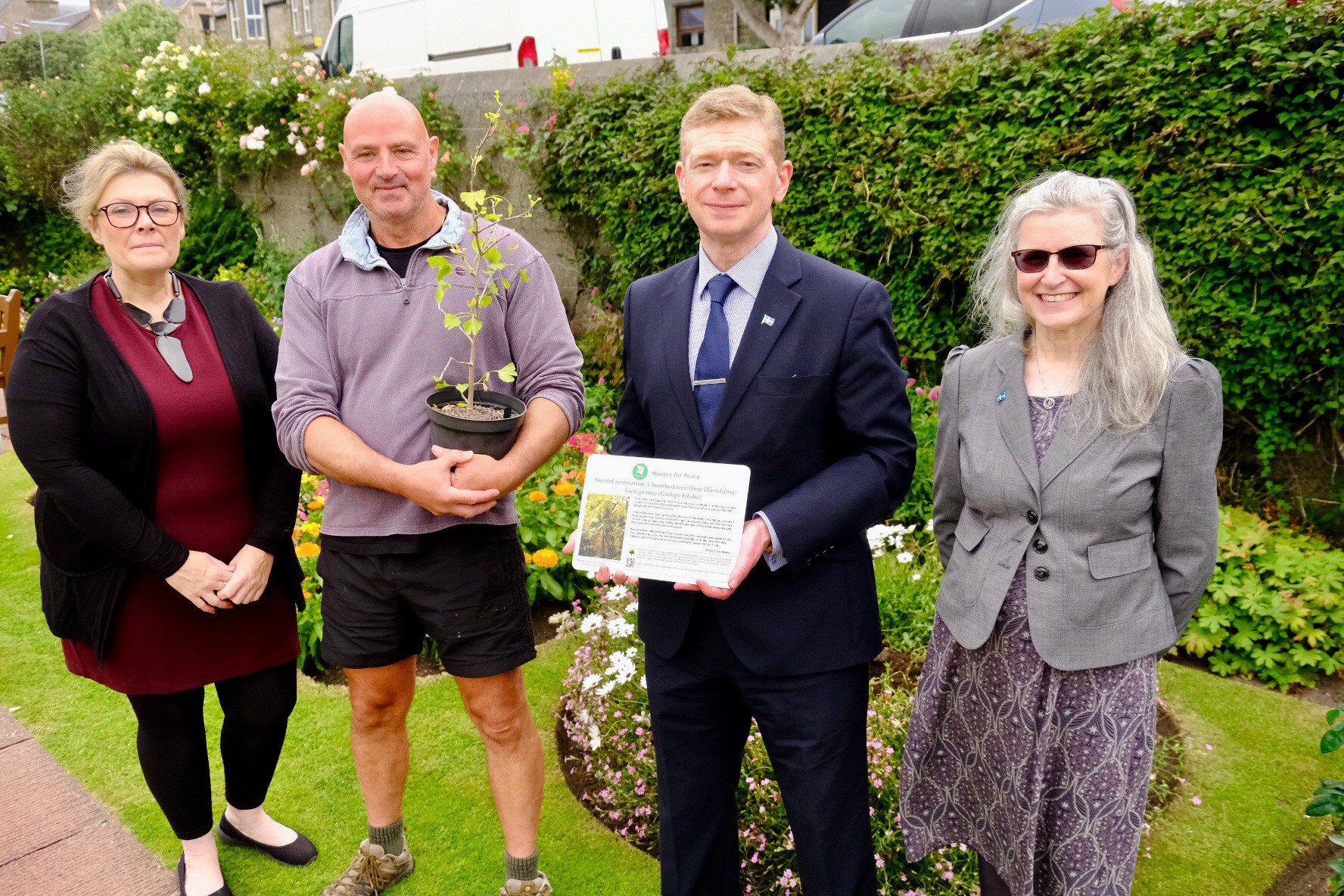 Photo: The Convener of the Shetland Islands Council Malcolm Bell with staff
and fellow councillors with the gingko tree planted in Lerwick.
Malcolm Bell, Convener of the Council said: "The seeds of the gingko trees in Hiroshima are a powerful symbol of hope, survival and resilience. They serve as a constant reminder of the need for meaningful dialogue and political discourse as a prerequisite to achieving lasting peace between nations."
Link (Shetland Islands Council website)