Report by Ms. Loréna Schlicht, AFCDRP-Mayors for Peace France
As part of Peace Boat's global online project, with the support of Nihon Hidankyo (Japanese Confederation of A- and H-bomb Victims' Organizations) and Mayors for Peace, an online event in French and Japanese was organized on August 9, 2021 in commemoration of the Nagasaki atomic bombing. The event was held as a joint initiative of Peace Boat, ICAN France and Mayors for Peace France.
Ms. Mitamura, a survivor of the Nagasaki atomic bombing, shared her poignant testimony using illustrated cards. She explained that the explosion was not the only threat the survivors of the nuclear weapon had to face. However, hibakusha also suffer from the long-term and harmful after effects, notably of the radiation. Ms. Mitamura is now dedicated to telling the stories of the survivors to the people around the world through the trips on the Peace Boat and their online project, titled "Every Second Counts for the Survivors".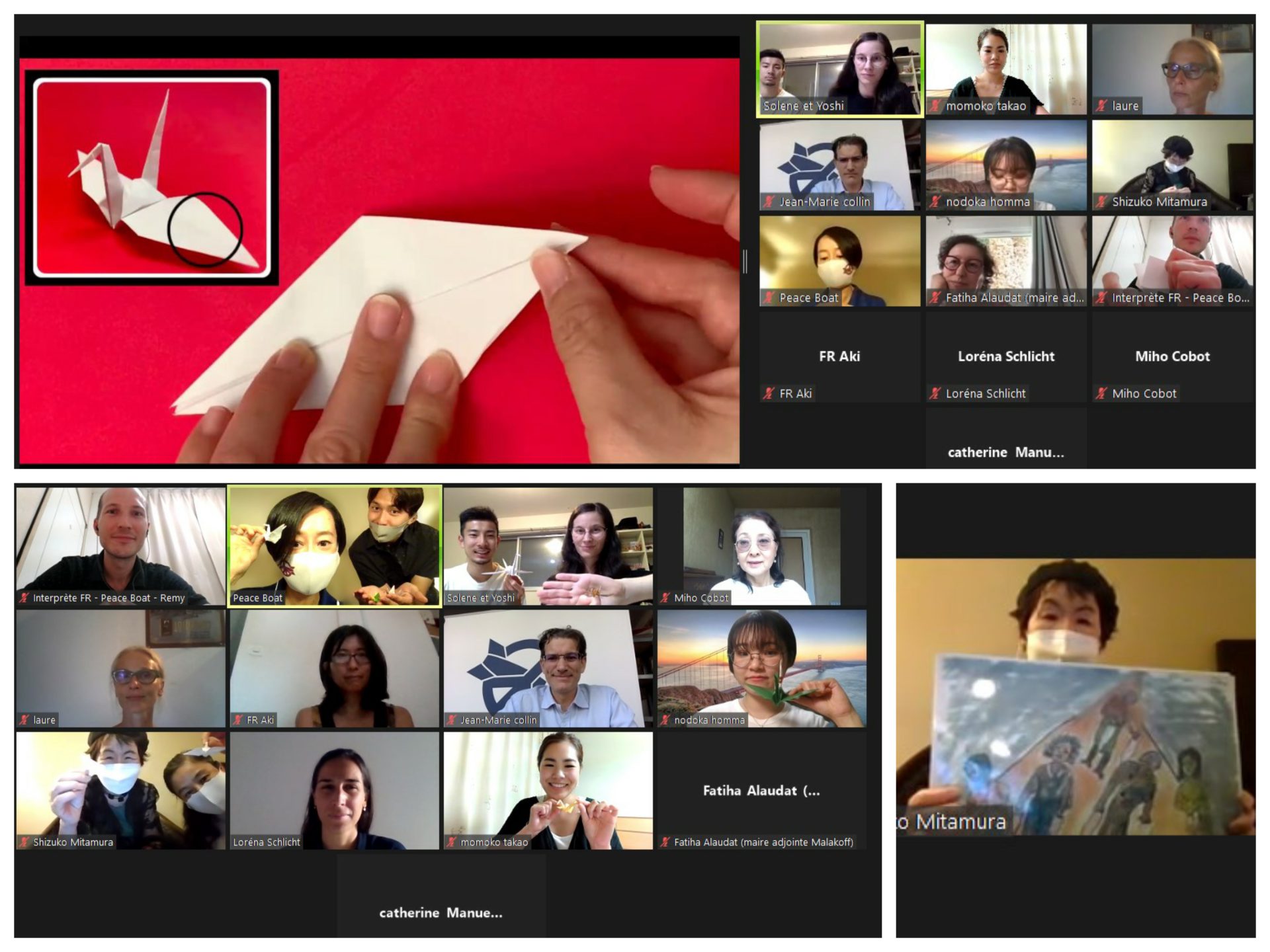 Photos: courtesy of the AFCDRP-Mayors for Peace France
The event started with the opening remark by Ms.Fatiha Alaudat, Deputy Mayor of Malakoff and Vice President of Mayors for Peace France, and representatives of each organization shared their valuable expertise and initiatives for nuclear disarmament. The first one was offered by Ms. Miho Cibot-Shimma, Hiroshima Peace Ambassador of the French Chapter of Mayors for Peace. Mr. Jean-Marie Collin from ICAN France gave the second speech about the various initiatives to promote the nuclear weapons ban treaty in France. Thirdly, Laure Norest, a staff member of Peace Boat introduced the organization. At the end of the event, a French student Solene Petitcol spoke about Sadako Sasaki and the origami paper crane, which is a symbol of peace and nuclear abolition; a live workshop folding paper cranes was also held to raise awareness of Sadako's story and importance of peace.
The online event is available from here     The article in French is available from here

A documentary film, "I was her age", documenting the Peace Boat voyage to share the horrors of nuclear weapons and to call for their ban and eradication, is available from here (The video was created by a video maker from UK, Emma Baggott)