Report provided by Evelyn Kamissek, Office for International Affairs, the City of Hannover
To mark the 30th anniversary of the INF-Treaty, a success of the peace movement, and to recall the danger this disarmament treaty is in, member mayors of the German Chapter of Mayors for Peace and representatives of the peace movement signed the Mutlangen Manifesto on December 5, 2017. Mutlangen is a former deployment site of nuclear Pershing II missiles.
The City of Hannover, a Vice President of Mayors for Peace and the Lead City of Germany, has informed our German members of the comment by the Mayors for Peace President expressing his concern about the US's threatened withdrawal from the INF-Treaty.
With the President Tump's announcement and Russia's harsh answers, the members of the German Chapter are gravely concerned about the rising danger of a new nuclear arms race.
In early November, the German Chapter joined an initiative by local peace groups titled "No! Nein! Njet! Disarmament creates security", in which two kinds of postcards were created addressed to the US and Russian Ambassadors to Germany calling for the preservation of the INF Treaty. A letter was also sent to the Foreign Ministry of the German Government. In Mutlangen, a former deployment site for nuclear Pershing II missiles, a large banner was attached to the town's welcome sign, stressing the importance of this action.
>Report in German on the Mayors for Peace German Chapter website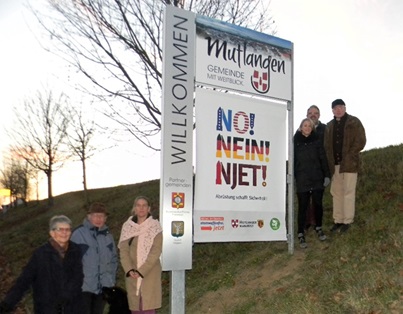 Peace group members beside the town sign of Mutlangen, Germany

(Photos Courtesty of the City of Mutlangen)