Report provided by Fateme Babaha, a volunteer member of the staff at the Iranian Secretariat of Mayors for Peace
In June 2018, the number of Iranian member cities reached 1,003. One hundred and seventy eight cities came onboard since 2016 and increased the number of member cities from 812 to 990 by the end of 2017. The joining of 13 more cities earlier this year, increased the number exceeding 1,000. The Iranian Secretariat of Mayors for Peace housed within Tehran Peace Museum, played a significant role in introducing the organization and its objectives to different cities of Iran and calling on them to take part in the way ahead. They achieved this historical record by consistently communicating with all the mayors of Iran and asking them to join the organization.
Iran is now home to the second largest number of member cities of Mayors for Peace in the world. The Iranian Secretariat of Mayors for Peace wishes to invite the remaining cities to join the organization. Furthermore, activating the current network is the next focus of our Iranian partners. They are planning to do so by increasing Tehran's activities as a Lead City of Mayors for Peace in different aspects so that other cities are encouraged to participate more and take needed actions.
The City of Tehran accepted the role of a Lead City of Mayors for Peace in Iran in January 2017 due to consistent collaborations of Mayors for Peace Secretariat in Tehran and involvement of this city regarding organization's objectives, which includes "the realization of safe and resilient cities." There are different centers and organizations in Tehran active in urban management and the realization of safe and resilient cities. Young Shahryaran House is one of them. It is a subsidiary organization of the Cultural and Social Assist of Tehran municipality striving for Urban Management. Founded in 2006, the center utilizes the power and capability of youth in framework of volunteer work to improve citizenship culture.
In April 2015, Tehran launched the Tehran Disaster Resilience Center (TDRC) with the aim of risk management, reducing cities' vulnerability in facing disasters and improvement of public safety of cities. The center, which is the first urban resilience center at a national level, is affiliated to the Tehran Disaster Mitigation and Management Organization (TDMMO) of Tehran municipality. This center has collaborations with UN-Habitat and Japan International Cooperation Agency (JICA) in its projects.
"Urban Peace" is now a new topic which is currently under consideration and clarification to be followed in the future concordant with the realization of safe and resilient cities in the Tehran municipality. "Inner peace" could be considered as the first step in creating "urban peace"; without peacenik citizens, peaceful cities cannot exist.
>Mayors for Peace page at the Tehran Peace Museum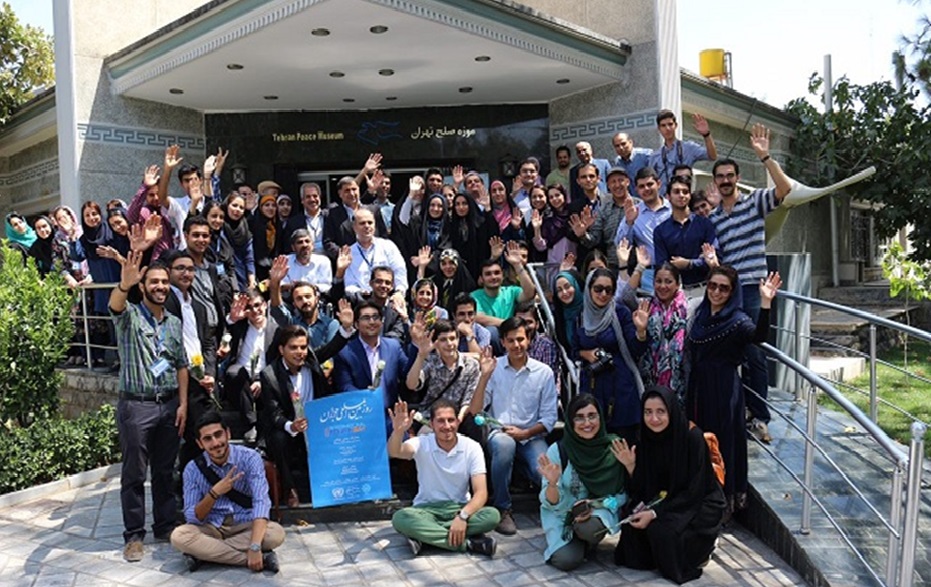 The staff and volunteers at the Tehran Peace Museum
(Photo Courtesy of Tehran Peace Museum)