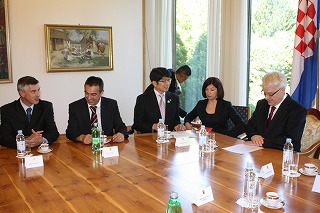 Mayor Taue and the president of the the Republic of Croatia exchange opinions on the abolition of nuclear weapons
Invited by the Republic of Croatia, Mayor Taue of Nagasaki visited its capital, Zagreb, and met with President Ivo Josipovic on April 30, 2012 before visiting Vienna, Austria during the first Preparatory Committee Meeting for the NPT Review Conference.
They exchanged opinions on the abolition of nuclear weapons, and Mayor Taue asked for cooperation in expanding Mayors for Peace membership in Croatia. He also requested the president to encourage Croatian cities to hold 5000-Member Milestone Poster Exhibition and to support the petition calling for a nuclear weapons convention.
President Josipovic answered that he would ask all municipalities in Croatia through Zagreb City, and, as a first step, would tell mayors from all over the country during a national convention in Vukovar City on June 2.