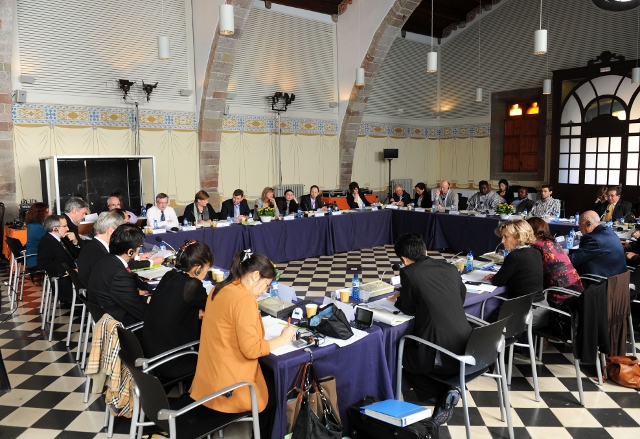 The 8th Executive Conference was held in Granollers, Spain.
During the conference, it was reported that the number of member cities exceeded 5,000 in September 2011. Past activities were reviewed and future plans were discussed among the participating mayors and representatives of executive cities.
Also at this Executive Conference, digest version of the "Hiroshima for Global Peace Plan of Hiroshima Prefecture was circulated and explained, and gained approval for receiving an explanation about the situation of efforts from Hiroshima Prefecture at the 2013 General Conference.
1 Dates

Nov. 9 (Wed) and 10 (Thur), 2011
2 Venue

Granollers, Spain
3 Participating
    Cities

11 Cities

City (From oldest to newest)
Representative
President
Hiroshima (Japan)
Mr. Kazumi Matsui (Mayor)
Vice Presidents
Nagasaki (Japan)
Mr. Tomihisa Taue (Mayor)
Hannover (Germany)
Ms. Marlies Drevermann
(Deputy Chief Executive)
Volgograd (Russia)
Ms. Irina B. Elinetskaya
(Vice Mayor responsible for International Relations)
Malakoff (France)
Mr. Michel Cibot (Head of Services)
Manchester (UK)
Mr. Mark Hackett (Councillor)
Ypres (Belgium)
Mr. Filip Deheeger (Treasurer)
Biograd na Moru (Croatia)
Ms. Jasminka Bajlo (Counselor)
Granollers (Spain)
Mr. Josep Mayoral i Antigas (Mayor)
Halabja (Iraq)
Mr. Khder Kareem (Mayor)
Executive
Fongo Tongo (Cameroon)
Mr. Daniel Tsakem (Lord Mayor)

Frogn (Norway)   
Mr. Thore Vestby (Mayor)
Mortsel (Belgium)  
Ms. Ingrid La Pira (Mayor)
Zemir (Israel)    
Mr. Samir Darwish (Mayor)
Bastogne (Belgium) 
Ms. Lysiane Thonus (Staff member in charge of Mayors for Peace)
Federation of Argentinean Municipalities (FAM, Argentina) /Latin American Federation of Cities, Municipalities and Associations of Local Governments (FLACMA)

        

  Dr. Marcos Miguel Sestopal (Director of International Affairs of FAM)
National Front of Mayors (FNP, Brazil)

        

  Mr. Claudio Maffei (Vice President of FNP, Mayor of Porto Feliz)
Association of Local Authorities of Mexico (AALMAC, Mexico)

        

  Mr. Ricardo Baptista (Advisory Council member of AALMAC)

Executive Advisor, Hiroshima Peace Culture Foundation
  Mr. Aaron Tovish (International Director, 2020 Vision Campaign)
  Ms. Jacqueline Cabasso
  Mr. Pol Heanna D'Huyvetter (International Development Director, 2020 Vision Campaign)
4 Agendas

Reports
  Activities after the 7the General Conference in 2009
Agenda 1
  Mayors for Peace Campaign Action Plans
Agenda 2
  The 8th General Conference in 2013
Discussion topics
  Management of Mayors for Peace
  ① Executive Conferences in Hiroshima and Nagasaki
  ② Managing the cost of Mayors for Peace
  ③ Establishing national and regional chapters: roles and responsibilities
Other
  Reports from Executive Advisors
  Discussion of current concerns
Agenda 3
  Texts to be adopted by the Executive Conference
  ① Resolution towards the Abolition of Nuclear Weapons
  ② Final communiqué (on matters discussed and decided)
5 Resolutions