The United Nations Disarmament Fellows visited Hiroshima from September 23 to 25 and learned the realities of the terrible devastation of the atomic bombing in Hiroshima.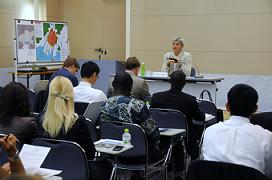 On September 24, as part of the training program, the fellows received a briefing on Mayors for Peace, which was established in 1982, and its 2020 Vision Campaign, which was launched in 2003, from Chairman Leeper of the Hiroshima Peace Culture Foundation. In the briefing, Chairman Leeper introduced international efforts toward the abolition of nuclear weapons focusing on the current efforts to promote a nuclear weapons convention, not depending on the cooperation of the nuclear-weapon states. In consequence, this led to a vigorous and sometimes heated question and answer session.
Reference
What is the United Nations Disarmament Fellowship Program?
This is a program to provide young diplomats in the disarmament field, mainly from developing countries with a series of training exercises including visits to the United Nations General Assembly, Conference on Disarmament in Geneva and other countries concerned. It aims to produce competent professionals in the disarmament field. This program was decided at the 1st UN Special Session on Disarmament in 1978 and has been implemented every year since 1979.
At the 2nd UN Special Sessions on Disarmament in 1982, the Japanese government proposed to invite the fellows to Hiroshima and Nagasaki. Since 1983, Japan has accepted the fellows every year. Commissioned by the Ministry of Foreign Affairs, the Hiroshima Peace Culture Foundation has been providing a program to learn the reality of the A-bombing in Hiroshima.
This is the 29th visit of the UN Disarmament Fellows to Hiroshima.

Program in Hiroshima
・ Tour A-Bomb Dome and Children's Peace Monument
・ Visit and dedicate flowers to the Cenotaph for the A-bomb Victims
・ Tour Hiroshima Peace Memorial Museum
・ Tour Hiroshima National Peace Memorial Hall for the Atomic Bomb Victims
・  Hiroshima Seminar

1. Briefing on Mayors for Peace
2. Watch an A-bomb documentary film "A Mothers' Prayers"
3. A-bomb survivor testimony (Mr. Keijiro Matsushima)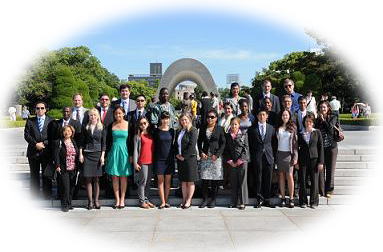 List of the 2011 United Nations Disarmament Fellows
| | |
| --- | --- |
| Mr. Valere MANTELS | Coordinator |
| Ms. Jenny FUCHS | Secretary |
| No | 名前 | 国名・所属 |
| --- | --- | --- |
| 1 | Ms. Ekaterina LOZOVSKAYA | Belarus |
| 2 | Ms. Gracinda Marisia da Cruz FORTES | Cape Verde |
| 3 | Ms. Andrea QUEZADA CARRASCO | Chile |
| 4 | Mr. ZHAO Li | China |
| 5 | Ms. Katherine Mercedes URBAEZ MARTINEZ | Dominican Republic |
| 6 | Mr. Mootaz MANSOUR | Egypt |
| 7 | Ms. Kristi TORIM | Estonia |
| 8 | Mr. Ulrich KÜHN | Germany |
| 9 | Ms. Tatiana ZELAYA BUSTAMENTE | Honduras |
| 10 | Mr. David Elek HORVATH | Hungary |
| 11 | Mr. Anas Abdul Lateef Mohi AL-NEIAMI | Iraq |
| 12 | Mr. Shinsuke SAKAMOTO | Japan |
| 13 | Ms. Dana SMAGANBETOVA | Kazakhstan |
| 14 | Mr. Abel David Muniu NJUGUNA | Kenya |
| 15 | Ms. Raja Intan NOR ZAREEN | Malaysia |
| 16 | Ms. Ifigenia ARGUETA SANCHEZ | Mexico |
| 17 | Mr. Gleb MASLOV | Russian Federation |
| 18 | Mr. Mirko KUZMANOVIC | Serbia |
| 19 | Ms. Kershney Chantelle NAIDOO | South Africa |
| 20 | Ms. Teresa DÍAZ-MORERA VENTÓS | Spain |
| 21 | Ms. Seraina CADUFF | Switzerland |
| 22 | Mr. Dable BOTRE | Togo |
| 23 | Ms. Ramla KHAMIS | United Republic of Tanzania |
| 24 | Ms. Andreea PAULOPOL | United States |
| 25 | Mr. Berdibek ALIBEKOV | Uzbekistan |