On December 13th, 2010, several musicians living in Hiroshima held a charity concert together to support the efforts of Mayors for Peace toward the abolition of nuclear weapons by 2020. You can see this concert, held at Aster Plaza in Hiroshima, on YouTube.
【2020 Vision Campaign Charity Concert】
On December 13th, 2010, several musicians living in Hiroshima held a charity concert together to support the efforts of Mayors for Peace toward the abolition of nuclear weapons by 2020.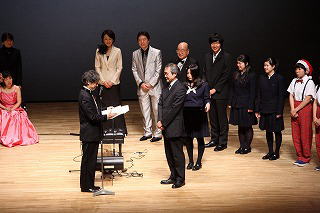 Mayors for Peace is an international network of cities focusing on the total abolition of nuclear weapons and world peace. It was founded in 1982 with the leadership of mayor of Hiroshima and Nagasaki. As of May 1st, 2011, Mayors for Peace had 4,704 member cities in 150 countries and regions. It has been promoting the 2020 Vision Campaign internationally with the aim of abolishing all nuclear weapons by 2020, the 75th anniversary of the atomic bombings of Hiroshima and Nagasaki.
"We should do whatever we can to bring peace." The musicians, led by Mr. Bunken Nagano, a Hiroshima-based internationally acclaimed classical guitarist born in Nagasaki, achieved a great success, donating one million yen from the proceeds of their concert to Mayors for Peace. Furthermore, they announced their intention to hold this charity concert every year during the coming 10 years, until the year 2020.
Organized by: 2020 Vision Campaign Charity Concert Organizing Committee Supported by: Mayors for Peace, The City of Hiroshima, Hiroshima Municipal Board of Education, Hiroshima Peace Culture Foundation, Hiroshima City Culture Foundation, Hiroshima Prefectural Medical Association, Hiroshima City Medical Association, The Chugoku Shimbun, New York Metropolitan Martin Luther King Jr. Center for Nonviolence, a United Nations NGO
2020 Vision Campaign Charity Concert posted on You Tube (Click to see the performance)
Concert song list : Amazing Grace, Voi che sapete, Ballade No. 1 in G minor, Op. 23, Nocturne for Left           Hand, Granada, El Cant dels Ocells, Do not stand at my grave and weep, Sakura.
【Selected full-length performances】
【Profile】
Hiroshima Junior Marimba Ensemble
In 1991, a percussive marimba ensemble was formed of children who love playing the marimba. Each of them feels the music and seems to dance as they play, helping the audience feel their joy. As a "Hiroshima International Peace Culture Activity Promotion Group", they played at Carnegie Hall in New York and as a Goodwill Ambassadors in Hong Kong, Russia, France, China and Taiwan. In 2003, they received Hiroshima's "Citizenship Award". In 2009, they received the "International Contribution Award" from the Association of Nihon Zenkohkai.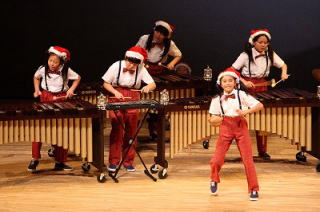 Maiko Hiraoka
When she moved to the United States with her family, she encountered a free and relaxed type of music. After she came back to Japan, she graduated from Hiroshima Music High School and Osaka College of Music, then left to study abroad at the Vienna Music Academy in Austria. During her stay, she met with a freak accident that left her whole body paralyzed, especially the right side. After a time of despair, she committed herself to rehabilitation, eventually entering the first Piano Paralympics in Yokohama. She later received the Arts Award at the second International Piano Festival by People with Disabilities in Vancouver.
http://www7b.biglobe.ne.jp/~miraclemaiko/index.html (Japanese only)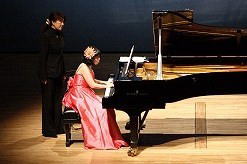 Yasuo Harada
While studying abroad at a medical school in Italy, he studied opera at the Milan Conservatory. After receiving this training, he performed in many operas, including "La Traviata," "Madame Butterfly" and "La bohème." He became president of Hiroshima University in 1993, Director General of the Hospital Affairs Bureau, the City of Hiroshima in 2001, and currently permanent advisory commissioner of the Hiroshima City of Future Foundation, and director of the Hiroshima City Museum of Contemporary Art. As an active 79-year-old tenor, he works tirelessly to unite people in community through art and culture. He has received Japan's Medal with Purple Ribbon and Order of the Sacred Treasure, Gold and Silver Stars.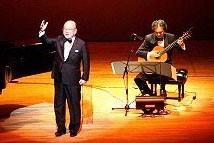 Rongchun Zhao
Rongchun Zhao was born in Jilin, China in 1957. When Zhao was 11 years old, he began studying erhu with Cho Kokutyu. In 1978, he entered the Jilin National Orchestra. In 1988, he joined the Guangdong National Song and Dance Troupe. The following year, he immigrated to the U.S. where he received permanent residency in 1992. Zhao introduced the erhu and other Chinese instruments to audiences in NY. He co-starred with the Cleveland Orchestra and performed to rave reviews at Carnegie Hall, the Metropolitan Museum of Art and other venues. In 2005, Zhao moved to Hiroshima and opened a school of erhu. He is a lifetime emeritus professor of the Jilin National Orchestra.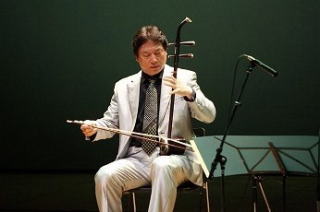 Keiko Sugiura
After Keiko Sugiura entered the Japan Broadcasting Corporation (NHK), she worked in Tokyo, Osaka, and Hiroshima. As a chief anchorwoman for NHK Hiroshima, she frequently hosts shows about nuclear issues and peace, including "Letters from A-bomb Victims", "Bond for Peace Concerts of Sayuri Yoshinaga", or "News 845 Hiroshima". She has also hosted "News at 7", "Melodies of Memory", "Hot Mornings of Life", "Art Theater and Drama", "NHK Haiku", and was a first female co-host of the "Year-End Music Contest", one of Japan's most popular shows.
http://cgi4.nhk.or.jp/a-room/search/detail.cgi?id=251 (Japanese only)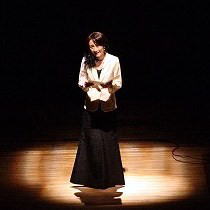 BunKen (Bunken Nagano)
Bunken's professional career began with lessons from Oscar Ghiglia. He is an internationally acclaimed guitarist who has played NY Carnegie Hall, the United Nations Headquarters, and NHK-BS Sayuri Yoshinaga 12 Songs of the A-bomb. His recording debut was in 2007 with a solo guitar version of "A Thousand Winds" from Nippon Columbia. He appears in many media. His CDs are heard on NHK "Overnight Radio", aboard JAL planes, and in the Shinkansen (Bullet train). Because of his rich and graceful tones, he has earned the nickname "Magician of Six Strings."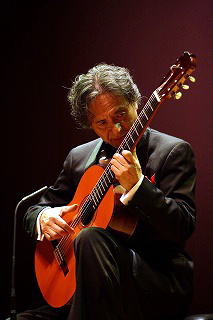 【List of successful applicants from the public audition (Age 16 to 20)】
Xiaole Yin
Hiroshima Music High School, 3rd year
2009 Lead in "Dearest Sinran" a Hiroshima Music High School original musical
Tomomi Yokoro
Hiroshima Music High School, 3rd year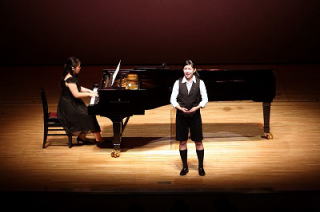 Henry Jiang
AICJ Senior High School, 2nd year
2009 Award, Chugoku – Shikoku Area PTNA Piano Competition
2010 Hiroshima Area Performance Award, Beten Piano Competition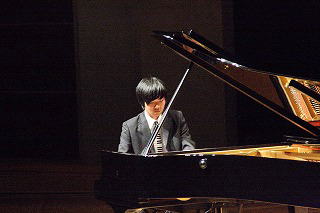 【MC】
Ikuko Katsura
During her college days in Hiroshima Jogakuin University, she began her career as an assistant reporter on TV programs. She is now a widely active freelance announcer, with experience as a communication trainer, moderator, narrator, voice actor, and lecturer. She has also worked as an FM radio personality for over 18 years. She moderated the opening ceremony of the National Orizuru Competition and was the voice actor for the Asian Games mascots "Poppo and Cuccu." She also works as a volunteer reader at the Hiroshima National Peace Memorial Hall where she reads aloud Atomic Bomb Victims stories.
http://www.office-primetime.com/index.html (Japanese only)