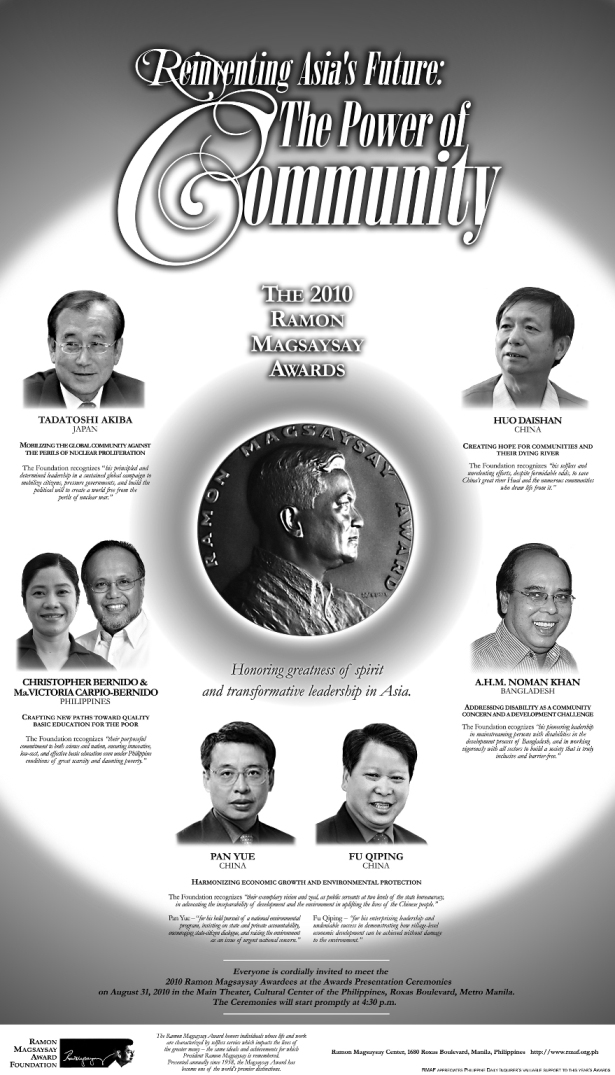 Mayor Akiba was one of the recipients of this year's Ramon Magsaysay Award, for his activities related to peace and the abolition of nuclear weapons.
Awarded by:
The Ramon Magsaysay Award Foundation (RMAF), Manila, Philippines
Considered the "Nobel Prize of Asia" Ramon Magsaysay Awards are given to individuals or organizations in Asia who have engaged in social contribution activities.。
The Magsaysay Award
Officially known as the Ramon Magsaysay Award, this award was created to commemorate the late Ramon Magsaysay, former President of the Philippines who was killed in a plane crash.
Recipients to the award exemplify Magsaysay's integrity in government, courageous service to the people, and pragmatic idealism within a democratic society.
The Ramon Magsaysay Award is often called the "Nobel Prize of Asia", and every year the Ramon Magsaysay Award Foundation (RMAF) awards individuals and organizations who have made social contributions in Asia. From 1958 until the present, RMAF recognized and honored more than 200 individuals, including Mother Teresa and the 14th Dalai Lama and over 10 organizations throughout Asia.