President Akiba participated in the 62nd Annual UN DPI (Department of Public Information) /NGO Conference held in Mexico City, in cooperation with NGOs under the theme "For Peace and Development: Disarm Now!". In order to have Hiroshima-Nagasaki Protocol adopted at the NPT Review Conference in 2010, he promoted understanding and cooperation with the initiatives of Mayors for Peace including the Protocol and 2020 Vision Campaign, as well as establishing good relationships with UN officials, government representatives and peace related NGOs to realize a world without nuclear weapons.
Wednesday, September 9
At the Opening Ceremony of the 62nd Annual DPI/NGO Conference, H.E. Mr. Kiyotaka Akasaka, UN Under Scretary-General for Communications and Public Information took the role of master of ceremony; H.E. Ms. Patricia Espinosa Cantellano, Mexican Minister of Foreign Affairs extended welcome remarks on behalf of the host country; H.E. Mr. Ban Ki-moon, UN Secretary-General gave an address; and H.E. Mr. Miguel d'Escoto Brockmann, President of the 63rd session of the General Assembly gave greetings via a video message. Keynote speakers included H.E. Mr. Miguel Marin Bosch, former Permanent Representative of Mexico to the United Nations in Geneva and Ms. Jody Williams, Nobel Peace Prize laureate and founder of the International Campaign to Ban Land Mines. Ms. Williams strongly urged everone to write letters to President Obama of the US and Prime Minister Brown of the UK to urge them to make critical actions for their countries' nuclear disarmament. Her voices were well received.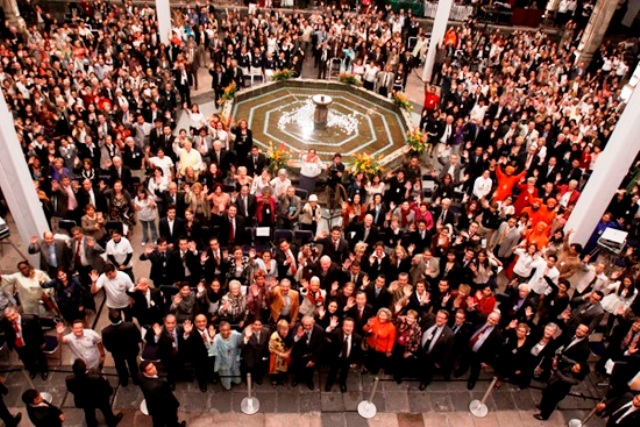 (Photo Credit: UN)
During the meeting with UN Secretary-General Ban Ki-moon, Mayor Akiba highly appreciated his leadership for nuclear disarmament, and asked his support for the activities of Mayors for Peace. The Secretary-General responded saying, let's work together toward the success of 2010NPT Review Conference.
In conjunction with the campaign led by the UN Secretary General Ban Ki-moon "WMD – We Must Disarm", participants including Secretary-General Ban, Under Secretary-General Akasaka, the UN High Representative for Disarmament Affairs Mr.Sergio Duarte, as well as Mayor Akiba joined a Twitter event and posted messages for nuclear disarmament.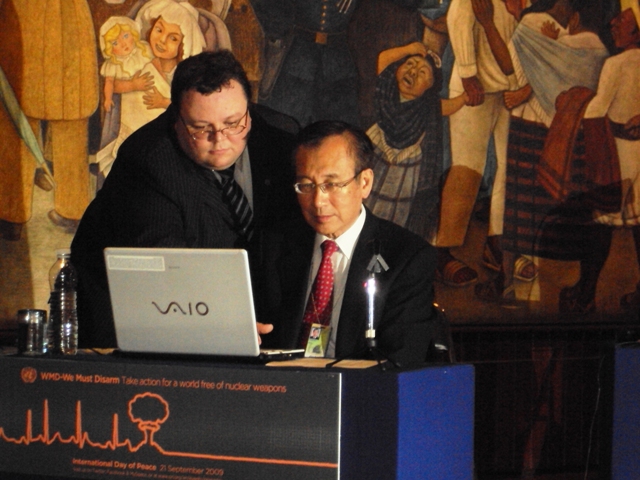 [Message from Mayor Akiba]
The only role of nuclear weapon is to be abolished! Hiroshima and Nagasaki are the proofs. WMD-We Must Disarm.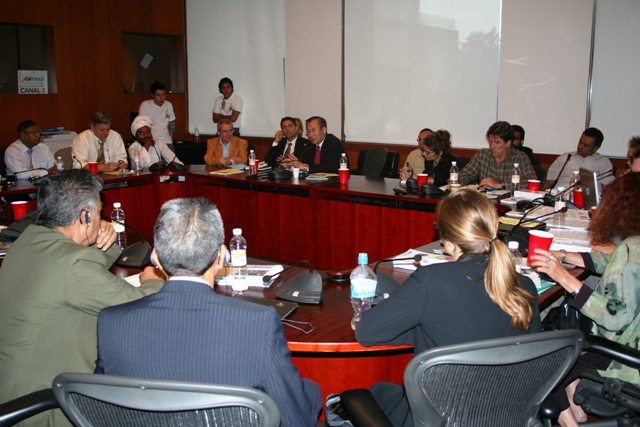 Among the workshops organized by various NGOs, President Akiba participated in the workshop "Yes, We Can! International Nuclear Weapons Abolition Campaign for the 2010 Nuclear Non-Proliferation Treaty Review Conference. During exchange of opinions, he expressed his ideas including that we should support President Obama who is trying to promote nuclear disarmament.
Thursday, September 10
Together with Mr. Sergio Duarte, UN High Representative for Disarmament Affairs,President Akiba participated in a meeting of the OPANAL Council, Agency for the Prohibition of Nuclear Weapons in Latin America and the Caribbean, consisting of all 33 Member States of the Treaty of Tlatelolco. In his remarks to the ambassadors of the Member States, Mayor Akiba stressed the importance of ensuring the success of the 2010 NPT Review Conference. He suggested that they call our movement to cope with the threat of nuclear weapons the "Cosmos revolution", as it is a homophone of such items as a beautiful flower, the universe, a book by Dr. Carl Sagan, and the acronym of a volunteer group in Hiroshima and Boston, the Committee to Send the Meaning of Survival, which translated the A-bomb survivors' 35-year-chronicle in the 1980's.
He also asked their cooperation for promoting membership in their countries and called for them to visit Hiroshima and Nagasaki, and listen to the voices of A-bomb survivors. When he closed his remarks with the words, "Together we can do it. Yes, we can!", ambassadors applauded and expressed their support to invite more mayors from their countries to join Mayors for Peace.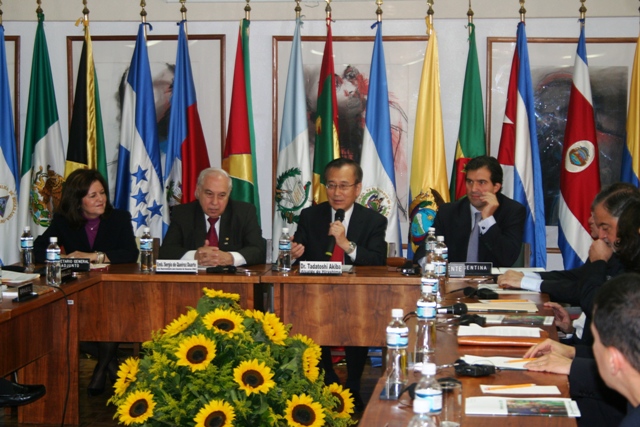 Mayor Akiba met with the Hon. Mr. Marcelo Luis Ebrard Casaubon, Mayor of Mexico City. He presented a Declaration of Distinguished Guest (Huesped Distinguido) to Mayor Akiba and immediately signed on the Mayors for Peace registration form.
Mayor Ebrard expressed his support for our membership drive in Mexico and Latin America, as well as his willingness to strengthen economic and technical partnerships with Hiroshima City, including the technologies of hydrogen automobiles.
Mayor Akiba expressed his appreciation for his decision to join Mayors for Peace, stressed the significance of the 2010 NPT Review Conference, as well as cooperation to realize a world without nuclear weapons by 2020.
Mayor Akiba met with Ms. Beatriz Paredes Rangel, President of Institutional Revolutionary Party (PRI), majority in the Chamber of Deputies (the lower house of Mexican Congress). Mayor Akiba introduced the spirit of Hiroshima and activities of Mayors for Peace, and asked her cooperation in promotion of the Hiroshima-Nagasaki Protocol and expansion of membership of Mayors for Peace. President Paredes suggested organizing such events as hibakusha speeches for students, and expressed her willingness to promote affiliations with Mayors for Peace.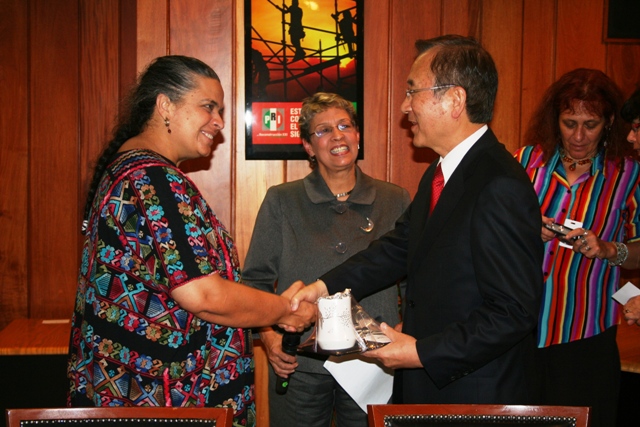 Friday, September 11
Mayors for Peace co-sponsored a workshop with other peace NGOs on the theme "International Decade for Disarmament: How NGOs Can Advocate Human Security and Nuclear Disarmament?"
In his opening remarks, Mayor Akiba introduced the activities of Mayors for Peace and emphasized that nuclear abolition by 2020 is technically possible.
He also stressed the significance of the UN International Decade for Disarmament 2010 to 2020, and strongly refused the idea of nuclear umbrella as inmoral, inhumane, taking citizens as hostages and should be gotten rid of.
In closing, he stated that the vast majority of the people in the world are for nuclear abolition and we should join together to achieve that result. "Together, we can do it. Yes, we can". His comment was well received by audience with a round of applause.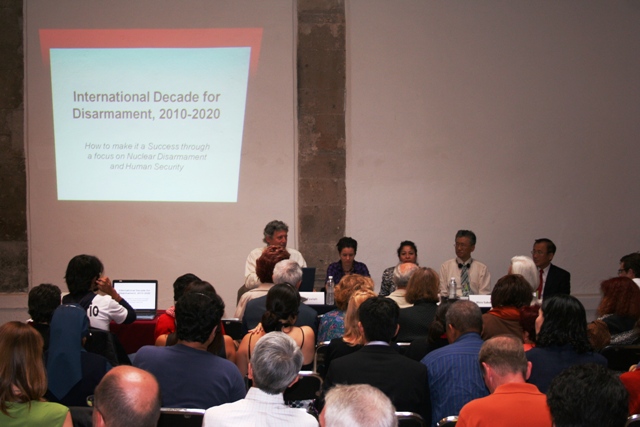 At the Closing Ceremony of the Annual 62th DPI/NGO Conference, a silent prayer was offered to the victims of the September 11th terrorist attacks in New York. Then, speakers including Mr. Roberto Zamora, a Costa Rican lawyer and member of Global Partnership for the Prevention of Armed Conflict; H.E. Mr. Sergio Duarte, UN High Representative for Disarmament Affairs; and Mayor Tadatoshi Akiba delivered their speeches.
In his speech, Mayor Akiba introduced President Obama's April 2009 speech in Prague in terms that what we are trying to accomplish, creating a world without nuclear weapons in the 21st century, is nothing less than a revolution, equivalent to the Czech Velvet Revolution against totalitarianism in the 20th century. He reported that a revolution is already spreading among the cities of the world, which represent the voices of citizens. You can see this through the rapid increase in the number of our member cities. Finally, he shared a dream of hosting the Olympic Games in Hiroshima and Nagasaki in 2020 to celebrate a nuclear free world and the triumph of the people of the world. When we work together, we can abolish nuclear weapons by 2020.