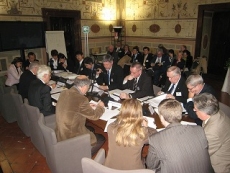 The 7th Executive Conference of Mayors for Peace was held in the city of Florence, Italy.
Approved to launch 2020 Vision Campaign as the NPT Review Conference Preparatory Committee Meeting will be taken place around the same time, determined the direction for campaign structure and fund raising.
In addition hold the Seventh General Conference in Nagasaki in August 2009 as well as adopt the Resolution on the Abolition of Nuclear Weapons and the Final Communique.
In this conference, 9 cities participated out of 12 Executive Cities, engaged in active debates in order to encourage activities of Mayors for Peace even more.
1 Dates

Nov. 21 (Wed) and 22 (Thur), 2007
2 Venue

Florence, Italy
3 Participating
    Cities

9 Cities

City (From oldest to newest)
Representative
President
Hiroshima (Japan)
Dr. Tadatoshi Akiba (Mayor)
Vice Presidents
Nagasaki (Japan)
Mr. Tomihisa Taue (Mayor)
Hannover (Germany)
Mr. Bernd Strauch (Deputy Lord Mayor)
Malakoff (France)
Ms. Catherine Margate (Mayor)
Manchester (UK)
Councillor Glynn Evans (Lord Mayor)
Akron (US)
Mr. Donald L. Plusquellic (Mayor)
Florence (Italy)
Mr. Leonardo Domenici (Mayor)
Laakdal (Belgium)
Mr. Patrik Vankrunkelsven
(Senator in Parliament and Representitive of Mayor and Council of Laakdal)
Executive
Ypres (Belgium)
Mr. Luc Dehaene (Mayor)


2020 Vision Campaign International Secretariat  
  Mr. Aaron Tovish (Campaign Manager)  
  Ms. Jacqueline Cabasso  
  Mr. Pol DHuyvetter
4 Agendas

Reports of activity since the 6th General Conference (2005)
Agenda item 1
  Expanding the 2020 Vision Campaign and Fundraising
Agenda item 2
  7th General Conference (2009)
Agenda item 3
  Motions to be adopted by the Executive Committee
  ① Resolution concerning the Abolition of Nuclear Weapons
  ② Final Executive Committee communiqué on matters discussed and decided
5 Decisions

 In May 2008, Phase Three of the 2020 Vision Campaign will be put in motion. The United Nations has declared that the years from 2010 to 2020 are a "Disarmament Decade", and Mayors for Peace will be in the forefront working for nuclear disarmament in the years leading up to 2020. A more detailed schedule can be found below.

| Date | Activity |
| --- | --- |
| May 2008 | The Mayors for Peace member cities meeting in Europe and the Mediterranean Area will be held in line with the NPT Review Conference Preparatory Committee Meeting. "The Hiroshima-Nagasaki Protocol" will be announced in Geneva. |
| Oct 2008 | Resolution by U.N. General Assembly on "Cities Are Not Targets! (CANT)" |
| May 2009 | The Mayors for Peace member cities meeting will be held in the United States (New York) in line with the NPT Review Conference Preparatory Committee Meeting (NPT PrepCom). |
| Aug 2009 | Seventh General Conference will be held. (Nagasaki) |
| Oct 2009 | Resolution by U.N. General Assembly on "the Hiroshima-Nagasaki Protocol" |
| May 2010 | Participation in the NPT Review Conference. |

 In order to expand our 2020 Vision Campaign, we will ask for voluntary contributions from member cities, foundations, corporations, and individuals across the world. To facilitate this expansion, 36 cities in Belgium have already decided to contribute and assist in the fundraising effort. Following this, we will encourage countries, which have many member cities such as Italy, Germany and the United States of America to help us with financial contributions.


 In order to implement the 2020 Vision Campaign rapidly and internationally, we will establish the 2020 Vision Campaign Association, to be located in Ypres, Belgium which is an Executive City of Mayors for Peace. It will plan, implement and raise funds for the campaign on behalf of Mayors for Peace, as well as design and implement various campaigns to abolish nuclear weapons.


 As a rule, the General Conference of Mayors for Peace is held every 4 years. The Seventh General Conference is to be held in Nagasaki in August 2009. Once every 3 years in the fall, Nagasaki City hosts an international NGO assembly called "Nagasaki Global Citizens' Assembly for the Elimination of Nuclear Weapons" with the aim of a peaceful world free of nuclear weapons. We hope to make arrangements to have both meetings held around the same time in 2009. With stronger ties between Mayors for Peace and NGOs, we hope to build more active momentum toward the abolishment of nuclear weapons.




6 Resolutions

 In order to build trust and facilitate dialogue among national governments to maintain and strengthen the NPT framework and to urge them to make efforts to bring the comprehensive Test Ban Treaty into force, abolish nuclear weapons and realize a world without wars, the Resolution on the Abolition of Nuclear Weapons was adopted. In the Resolution, Mayors for Peace is determined to act for such purpose on behalf of its citizens. This Resolution was sent to the nuclear-weapon states, de facto nuclear-weapon states and the United Nations.


 Mayors recognize that they are obligated to protect their citizens' rights to live from a humanitarian perspective. They also demand alteration of the policy of nuclear-weapon states not to target cities, and confirmed that they will realize total abolition of nuclear weapons by 2020. The Final Communique, which includes items decided by this Executive Conference, was then adopted. This Final Communique was sent to all member cities.