To better promote the 2020 Vision Campaign to Ban Nuclear Weapons by 2020, Mayors for Peace, with assistance from the government of Ieper, Belgium, opened a new International Secretariat Office on July 7 (Friday), 2006. The opening ceremony was attended by the Mayoral Delegation to the events commemorating the 10th anniversary of the ICJ advisory opinion. Mayor Akiba, the city of Hiroshima, on behalf of the Mayoral Delegation, expressed gratitude to the city of Ieper and his great expectations for the growth of the campaign.
With the International Secretariat as a new base, the 2020 Vision Campaign manager, Aaron Tovish, will vigorously promote the Good Faith Challenge and the Cities Are Not Targets (CANT) project in Europe and around the world.
In addition to supporting the International Secretariat, the city of Ieper has erected a Mayors for Peace "Peace Pole", has assigned a liaison to Mayors for Peace, and in other ways is playing an active role as a member of Mayors for Peace.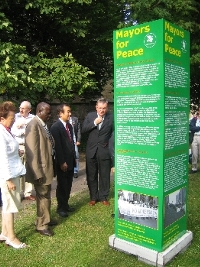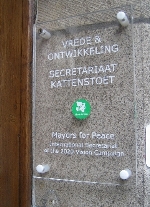 2020 Vision Campaign International Secretariat
(International Manager: Aaron Tovish)
c/o City of Ieper
Grote Markt 34, 8900 Ieper, BELGIUM
TEL: +32-57-388-957
E-mail: 2020visioncampaign@ieper.be