Topics 2018
Hiroshima Peace Study Field Trip 2018, Elizabeth University of Music
On October 12 (Fri), a class from Elizabeth University of Music (Japan) carried out its Hiroshima Peace Study Field Trip as a part of "Kyoyo Enshu (Liberal Arts)" course which is recognized as Hiroshima-Nagasaki Peace Study Course at the Hiroshima Peace Memorial Museum and other related facilities.
54 first year students from the university listened to a testimony of an A-bomb Legacy Successor, explored various monuments in Hiroshima Peace Memorial Park with peace volunteers, and visited the Hiroshima Peace Memorial Museum.
They will continue further studying and deepening their understanding with discussions and presentations in the "Kyoyo Enshu" course.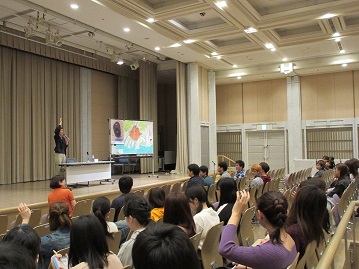 Testimony by an A-bomb Legacy Successor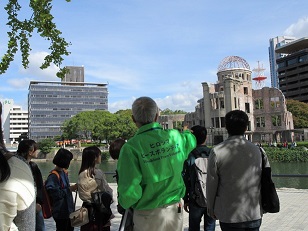 Tour of Monuments
in Hiroshima Peace Memorial Park
guided by Peace Volunteers